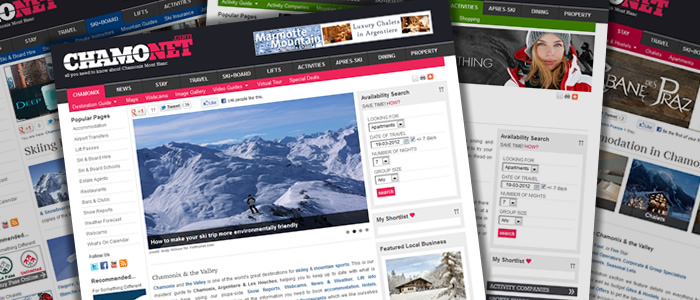 Putting theory into practice
Being able to program doesn't necessarily mean that you actually know anything about running a successful website. Powder Blue has many years experience not only building sites but writing, running and promoting them too ... so, whatever your problem, we've probably been there!
---
Our Websites
Powder Blue created the massively popular 'Skinets' sites; a network of comprehensive web-guides to the ski resorts of the French and Swiss Alps. From humble origins back in 1996 with our first guide to Méribel the sites have continued to grow; now collectively receiving tens of thousands of visits each day!
In 2010 we expanded the network to include our first summer destination; Mallorca. This first foray into the summer market has taught us a lot and we're now busy planning a much wider expansion into many of Europe's finest summer holiday desinations.
Our Experience
The business directory that was once at the heart of our original sites is today accompanied by a wide array of features, news, opinion, offers, forecasts and some of the best webcams in the Alps. Our network of reporters means that our news service is now a major supplier of Google News and a source for many national newspapers.
This growth hasn't always been completely smooth but we've learnt a lot along the way ... and so when you have an issue with search engine optimisation, or need to track advertising performance, or are worried that your forms are causing confusion - we understand what you're going through.