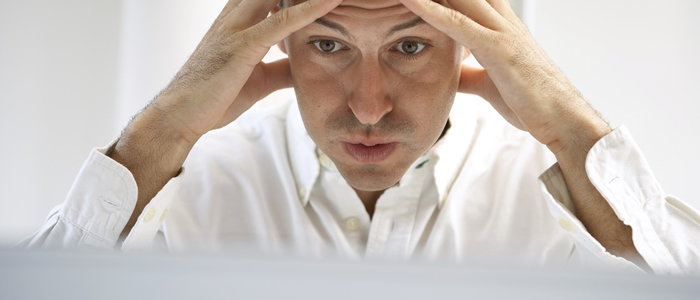 Authors: Gareth Young ( @gareth_pb ) & Chris Richard, 25/01/2013
So, you're starting a new business and thinking about building a website? Or maybe you've decided it's time you made your existing website work a bit harder? Having a company website is something that's often taken for granted nowadays.
Given that it's such an essential you'd think competition would keep standards high. Sadly for every great business site it seems there are dozens that really do little to justify their existence ... the one with old company colours; the one that can't be found on Google; the one someone forgot to proof-read.
It doesn't have to be that way. With some common sense, a bit of forward planning and the support of a reliable web-development company there's no reason you can't create a web presence that really works for your business.
Here are our top 5 tips for building your business online;
1. Plan Carefully
Building a web presence is an investment in your business. As with any investment you need to be clear about what you need and where the ROI is coming from.
Unless you're lucky enough to have an unlimited budget, always focus on doing the essentials well. Better to have a small site that your customers love, than a bigger one that doesn't get it quite right. Once you've got a good foundation in place you can always continue to build later.
Presenting your developers with a strong business plan will help them provide you with the right solutions. Discuss your ideas with them, learn from their experience and refine the plan if you need to before starting the actual build.
2. Keep It Current
The internet offers users a vast amount of choice, so if you want customers to keep coming back you're going to have to keep your web presence up-to-date.
Content management tools for the website are therefore a must-have ... both for user-orientated content and behind-the-scenes considerations like SEO. Allocate time regularly to update your site and keep an eye on your website analytics for opportunities to improve performance.
Competition online is fierce and if you want to stay with the pack you need to constantly drive your web presence forward. Developing new functionality takes time, so always think one step ahead and ensure you're aware of timescales and budgets for the next phase of your plan.
3. Stay Mobile
It's no secret that mobile and tablet browsing is a huge growth area. A web presence that doesn't cater to mobile users is fatally flawed and may actually alienate potential customers.
Basic mobile accessibility is an absolute essential. A good site will offer more than that, with a design that responds dynamically to make browsing convenient on any platform.
Don't assume that everyone has the latest iPhone either. Just because everyone in the meeting has a high-end smartphone doesn't mean your customers do, so your web presence needs to look right on that entry-level Samsung as well.
4. Get Yourself Seen
There's no point investing in a website that never gets visited. Don't think you're going to miraculously float to the top of Google, because you can bet that your competitors are working hard to make sure they claim that top spot for themselves.
SEO, social media, link building, e-mail marketing, web traffic analysis and competitor analysis are all things you're going to have to work at if you want your company to succeed online.
A word of caution though – don't confuse traffic with customers! Success online can only be measured in relation to your own business goals so you mustn't get distracted by how many Facebook likes or Twitter followers you have.
5. Seek Professional Help
Developing a web presence can be a daunting task. Those offers that make it seem easy? They're glossing over the work required to stay competitive in a complex and rapidly changing online marketplace.
Thankfully you're not alone . As web developers, designers and digital marketers it's our job to keep pace with technology and help you use it to your advantage.
Resist the temptation to employ a horde of different consultants. Each aspect of your web presence will be interdependent and so for the best results you want an agency with a broad skillset that can take an overall view.
With your business acumen and your developer's experience you should have the tools you need to successfully build your business online.

Is the web working well enough for you?
Find out for sure with professional help & advice from specialist digital designers, developers and marketers.
Powder Blue offers a full range of digital services including;
Website Audits & Optimisation
Technical Web Development
Responsive Design for PC / Mobile / Tablet
SEO (Search Engine Optimisation) & Keyword Analysis
Content Management Systems
E-commerce &Online Booking System
Data Feeds & APIs
Social Media
Front/Back-office web-integration
Website Analytics
SEM (Search Engine Marketing) & PPC Advertising
Content Marketing
Business Analysis & Consultancy
For more details or to discuss what Powder Blue can do for your business please contact us .